Mechenharder Straße 5 | 63785 Erlenbach | +49 9372-9454-0
---
Bed & Breakfast
---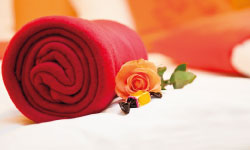 ---
Our family-owned bed & breakfast hotel is located in the small wine town of Erlenbach amidst the picturesque valley of the river Main and nestled between two hilly forest areas named Spessart and Odenwald. Quietly but still centrally situated, our hotel is the ideal domicile for business travelers, cyclists, hikers and even canoeists.
The hotel has excellent road links within the Rhine-Main-Area (close access to Highway A3) and convenient speed train connections to Frankfurt and Frankfurt International Airport via Aschaffenburg
For the short-term vacationers we recommend the Franconian Red Wine Hiking Trail (CHURfranken) or the Bicycle Trail along the river Main starting close to the city of Bayreuth in Eastern Bavaria and ending over 500 km later in the city of Mainz in the State of Rhineland Palatinate. The canoeist should look for river kilometre 110.2 in Erlenbach where he will find a landing stage making muscle-driven docking easy as pie.
---
Catering
---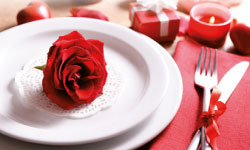 ---
Liebe's Catering stands for creative cuisine combining professional knowhow and love for details. We are your competent partner in all aspects of catering. Our culinary creations show an unmistakable and unique hand. We are able to offer catering for almost every need: from a birthday party buffet in your home, exquisite wedding menus in grand locations to large event catering services for more than 500 guests.
Consider us your official outfitters for culinary pleasures!